Blesbok Hides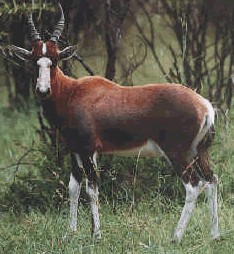 The blesbok is a sort of goat-antelope. There are 2 types. The most common blesbok is brown, the insides of the legs are white and they have a white blaze on their foreheads, hence its name. The other kind is an all-white blesbok. Wild blesboks live in the middle of South Africa, in the north to Botswana, Zimbabwe and Mozambique. Blesboks are the most common antelopes and live in herds. They breed fast and have almost no natural enemies. They are grass eaters and mainly live on open grassland. Both the male and the female have horns, the only visible difference is that the male blesbok has larger ones. The sizes of the skins are small to medium.
Besides the single skins we also offer patchwork rugs made of blesbok hides, cushions, poufs, etc. These last ones you can find on our home-accessories pages.

Languages
Important
Online orders within Europe currently proceed without problems and are shipped as normal. We currently unfortunatelly can't ship to most countries outside Europe due to the coronavirus crisis.
Update 09/05: As from May 12th we can ship again to The US, Canada, Russia, China & Brasil