Icelandic Sheepskins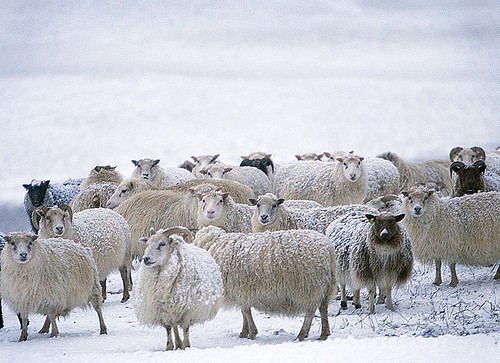 The ancestors of the current icelandic sheep are sheep that were brought to Iceland by the Vikings in the 9th and 10th century. Due to the isolated and cold environment it became a truly unique breed. They became the key to survival. They produce wool and food. Without the wool Iceland wouldn't have been habitable. Genetically the sheep today is still exactly the same as 1100 years ago. It might be the oldest, and due to its isolated location, possibly also the purest breed in the world.
For breeders they are unique. They have been growing for centuries without any other mix with other breeds. The wool they produce cannot be compared to other breeds. They have a unique combination of inner and outer wool. The outer wool is long, shiny and protects against mist, snow and rain. The inner wool is very fine, soft and isolates them against the cold. They come in many different colours of which white, black and white-black spotted are the most common. The grey and rusty brown ones are a lot more rare.
Sizewise the hides are medium to large. These animals have very broad backs, so the width of some of these sheepskins might be bigger compared to other breeds. They have a very robust appearance.