Zebra Hides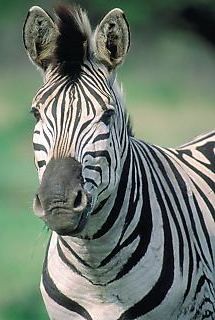 We sell both Burchell and Hartmann zebra hides. The Burchell zebra is the plains zebra and easily recognisable by the stripes running beneath the belly. The Hartmann zebra on the other hand is known as the mountain zebra. The stripes of these do not run beneath the belly and in general they are a bit smaller.
Zebras are not protected species and may thus be marketed in limited editions. However, the demand far exceeds the supply. This leads to high prices and sometimes difficulties obtaining them.
Zebras are wild animals and are attacked by other animals in the wild so the zebra skins can have some scars. It is not uncommon and not regarded as a default. That is why they work with A, B, C or D grade. Fully intact zebra skins without scars are virtually unobtainable.
We always try to keep the nice A and B grades on stock. C and D grades can be obtained upon request.