Cowhides
.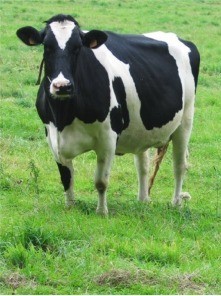 Most of our cowhides are from South-America or France. Every animal is unique, which of course makes every hide unique. We have a wide range of all sorts of breeds going from the typical Holsteins over Normandy to Hereford, etc. As much as possible we try to select them all ourselves. This makes them all A grades; unless otherwise mentionned. Very rarely they show scars or repairs (best checked on the backside). We always try to search for populair colours but also try to find the really rare patterns or colours in order to be able to offer a truly unique range. So you will find black and white, black, white, brown-white, brown, beige, grey, tri-coloured, brindle, pepper and salt, etc. We basically have them in 3 sizes; the really small ones are tagged as XS or S (between 1-2 m²), then we have an in-between size which is tagged as M (between 2-3 m²). These can be found under the small cowhides. And we also have the big cowhides which are tagged as L or XL (over 3 m²). These you will find under the big cowhides.
The small cowhides are a lot harder to find. If you are searching for really small cowhides you may also be interested in our calfskins.
Our cowhides are of a superior quality and not comparable to the cowhides who are a lot thinner due to having cut a layer to provide suède leather for the clothing industry. These dry out a lot quicker and hence start curling up a lot quicker. Our cowhides are laying nicely and firm on the floor.
Some cowhides may still show folds on the pictures. This is because they are photographed immediatelly after unpacking them. After photographing they are being laid on a big pile which has the natural shape of a cow. Because of the weight of all these cowhides laying on top of eachother the folds start to disappear after a few days.
Also have a look at our imitation zebra hides, leopard hides, tiger hides and giraffe hides.
On the pages below you will find all our available cowhides or you can search in the menu above on colour or pattern.