Roe Deer Hides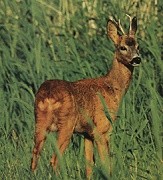 The roe deer is a small deer species found primarily in Europe. They have a sandy yellow to reddish-brown summer coat. Their winter coat is more greyish brown to black in color. Adult animals have no spots.
Clearly visible is the white to yellowish stain on the torso. In males this spot is during summer rather unclear. The nose is black and the chin is white. The tail is rather small (two to four centimeters long). During winter the female has a tuft of white hair between the back legs, which resembles a tail.
The adult male has simple antlers, consisting of just up to three points. The antlers are up to 25 centimeters long. During Winter they grow longer. Between October and January they shed their antlers. Occasionally some females also have antlers.